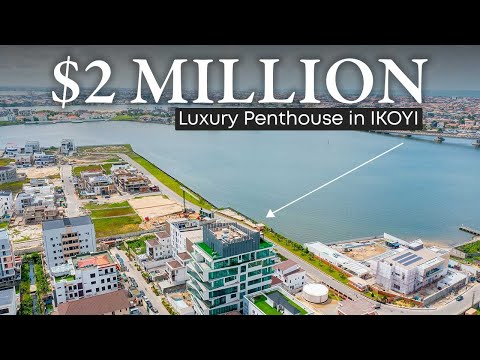 5 Bedroom Pent House
Old Ikoyi Ikoyi Lagos
$ 1,500,000
5 bedroom House For Sale Old Ikoyi Ikoyi Lagos
Safety Tips
Do not make any upfront payment as inspection fee or upfront payment for rent before seeing this property or seeing the agent you contacted physically. PrivateProperty.com.ng is not liable for monetary transactions between you and the agents.
The contact agent on properties listed on PrivateProperty.com.ng does not represent PrivateProperty.com.ng. PrivateProperty.com.ng will not mandate agents to ask for fees upfront.
Property Detail
Property Type

House

Sqm

430

Added

22 Aug 2022
Description
5 bedroom House For Sale Old Ikoyi Ikoyi Lagos selling for $1,500,000. See property details on PrivateProperty.com.ng or browse all our range of properties in Ikoyi Ikoyi Lagos
ULTRA-LUXURY 5 BED PENTHOUSE
Location: Ikoyi
Get immersed in a luxurious lifestyle at FH II located in the most prestigious neighborhood in Lagos. Showcasing exquisite features, this 5 bed penthouse offers premium living with its 5 bed all En-Suite and exceptional amenities.
Boasting a stunning foyer with a private elevator to take you to your penthouse, witness a classic living in this home offering panoramic views from your capacious terrace or through the floor to ceiling windows in all sections of the house, you could choose to soak in the Lagoon view, the Ikoyi bridge or the serene neighboring surroundings.
This home hallmarks a striking modern interior design inside of an elegant exterior, providing unmatched luxury. An elevated infinity edge pool, a fully equipped Gym, and a smart home cinema ensures that your unwinding need is met.
Property Highlights
️‍️ Fully Equipped Gym Area
Living area of >430sqm
‍️ Infinity Edge Swimming Pool
Ample Parking Space
Fully Fitted Bedrooms
Fully Fitted Bathrooms
Gated Community
Home Cinema
Lagoon View
*Exchange rates are based on current market data and are subject to change *
See more description
Listing is verified as real
If reported as fake, we'll investigate.
Price Trends
Similar listings
Is this listing fake or showing any false or inaccurate information?
Report listing
Is this listing fake or showing any false or inaccurate information?
Report listing