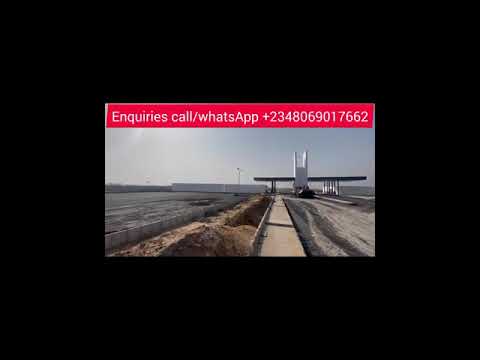 Interested in this property?
For sale: Residential Land With C Of O For Sale In Itunu City Estate Ibeju Lekki Lagos
Ibeju Lekki Lagos
₦ 35,000,000
Land For Sale Ibeju-Lekki Lagos
Safety Tips
Do not make any upfront payment as inspection fee or upfront payment for rent before seeing this property or seeing the agent you contacted physically. PrivateProperty.com.ng is not liable for monetary transactions between you and the agents.
The contact agent on properties listed on PrivateProperty.com.ng does not represent PrivateProperty.com.ng. PrivateProperty.com.ng will not mandate agents to ask for fees upfront.
Property Detail
Property Type

Land

Sqm

500

Added

10 Dec 2022
Description
Land For Sale Ibeju-Lekki Lagos selling for ₦35,000,000. See property details on PrivateProperty.com.ng or browse all our range of properties in Ibeju-Lekki Lagos
INTRODUCING THE ITUNU CITY SITE AND SERVICE ALONG LEKKI EPE EXPRESSWAY
Still in the wave of our 5th Anniversary Celebration and with that, we are launching our much-anticipated site and service Project THE ITUNU CITY Commercial and residential.
THE ITUNU CITY is our biggest development yet, developing a sustainable and balanced city that promotes relaxation, innovation and lifestyle, all in One.
FEATURES
Comes With Standardized Facilities Such As
Knowledge Park
Tech City
Mini Golf Course
Lakes And Gardens
Green Area
LOCATION Aiyetoro Ibeju-Lekki, Lagos, Opposite New Lekki International Airport
Land Title Certificate of Occupancy
RESIDENTIAL PLOTS
300sqm N21million
500sqm N35million
COMMERCIAL PLOTS
1000sqm N100M
Enquiries|| Inspection|| Purchase|| Call/WhatsApp
[redacted]
[redacted]
[redacted]
For more Properties
YouTube: https://www.youtube.com/channel/UCyC8vIOxbEKKP20CgLKocbg
Instagram: @worldmarksng
Facebook: @Worldmarksproperties
Twitter: @worldmarksng
Tik tok: worldmarksng
website
https://www.worldmarksproperties.com.ng
#worldmarkspropertiesltd
Interested in this property?
Listing is verified as real
If reported as fake, we'll investigate.
Price Trends
Similar listings
Is this listing fake or showing any false or inaccurate information?
Report listing
Is this listing fake or showing any false or inaccurate information?
Report listing